Hello again!! I still have more updates to share on my stepson's baseball room, although this is very close to the end. If you missed the prior episodes, check here and here and here. In Part I we painted, added a curtain and pillows, moved the Derek Jeter fathead (successfully, whew!) and added a refurbished IKEA Malm dresser that I spray painted navy. In Part II I showed how to make a baseball curtain rod finial and tieback. In Part III we added a new comfy comforter, some wall art, and a "magnetic" board.
This last part is one of my favorite things in the whole room, and the most work, actually more than I bargained for. Here is the bunk bed contraption that we started out with. Its really a cool piece of furniture. It has a desk, dresser drawers, and shelves, great design. The faux birch and navy finish remined me of a nautical style. For this room I was going for a modern industrial locker room type look.
So, I painted. Actually, I sanded, primed, then painted. I'm loving this finish!
Silver metallic paint! We sanded first and then a coat of Zinser oil-base primer. I went through 2 quarts of primer. The Silver paint was a quart of Rusteloem and I only used around 1/2 the quart.
Side note: We need another mattress. I'll have a final post showing the whole room when we get the other mattress, that is why the bottom bunk looks a little bare right now. :)
The finish is intentionally imperfect. I wanted the metal look and wanted the brushstrokes. I can't say that I did a stellar job, but I'm happy with it. Here are some better shots of the finish.
I didn't paint the portions of the furniture that were already blue. That tied in with the room's color scheme and we liked the two-toned look for the most part. Problem is that the blue is all scratched. I almost positive that I won't be able to match this exactly to touch it up but I will try.
I think this room is almost done, save for a mattress and hanging a mirror and a little more artwork.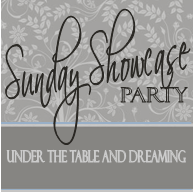 DIY ShowOff Link Party
Savvy Southern Style wow-us-wednesdays